Welcome To My Homepage
I am currently a lecturer (equiv. to Assistant Professor) of the School of Computer Science at the University of Birmingham. My current research is primarily related to Knowledge Representation and Reasoning (KR& R) for Robotics. I have focused on hybrid methods that integrate automated task and motion planning, scheduling, as well as temporal and spatial reasoning. My goal is twofold: to combine heterogeneous representations for the purpose of obtaining "hybrid" KR formalisms that are able to express the many nuances of real-world robotics problems; and to develop efficient methods for reasoning with these formalisms.
I am also interested in the ethical and social implications of technology in general and robotics/AI in particular; as well as topics at the intersection of feminism and robotics.
Previously, I was a postdoctoral researcher, followed by a permanent researcher contract, at the Cognitive Robotic Systems of the Center for Applied Autonomous Sensor Systems (AASS), Örebro University, where I received my PhD (2016) as well. I have also visited Prof. Nick Hawes's robotics group at the Oxford Robotics Institute, and had research stay in Sven Koenig's lab at the University of Southern California.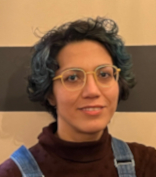 ---
Research Interests
Artificial Intelligent in Autonomous Mobile Robotics
Multi-robot Planning and Coordination for Industrial Vehicles
Integrated Reasoning in Robotics
Hybrid Knowledge Representation for Robotics
Feminism and Robotics
---
My Recent Activities
I have an open PhD position for EU/UK students only! (details here)

I chaired a session on "ethical issues in AI and robotics" in "Ethics matters".
conference in Brussels, Belgium, 2020. (see the impressions Ethics Matters conference)
Invited Talk at the "Qualitive Reasoning Workshop", of the 28th International Joint Conference on Artificial Intelligence (IJCAI), Macau, China, 2019
I have been awarded the Marie Sklodowska-Curie Actions Seal of Excellence for the project proposal, IRITIS, From Fleets of Intelligent Robots to Intelligent Robot Fleets on action call H2020-MSCA-IF-2018.
I am teaching Advanced Artificial Intelligence in our Master Program of Robotics and Intelligent Systems.
I am in a four-months research stay at the Oxford Robotics Institute.
Invited Talk at the "Workshop on New horizons in cognitive robotics and AI exploiting recent advances for predictive control and prospective interaction between agents", International Conference on Robotics and Automation (ICRA), Brisbane, Australia, 2018
Giving Tutorial with Federico Pecora at the 28th International Conference on Automated Planning and Scheduling (ICAPS) on "Integrated Motion Planning, Coordination and Control for Fleets of Mobile Robots", June 25th, Delft, Netherlands.
I am in a short research stay in Sven Koenig's lab at the University of Southern California
Panelist in the plenary discussion on Social Aspects in Integrating AI and Robotics at the fourth Lucia PhD school on "Artificial Intelligence and Robotics"
Program Committee member of the Workshop on Introspective Methods for Reliable Autonomy (IMRA-2017) held in the IROS 2017
Program Committee member of the Workshop on Application of Semantic Web technologies in Robotics (AnSWeR)
Program Committee member of the ICAPS 2017 Robotics Track
Organizing the IROS 2016 workshop on Integrating Multiple Knowledge Representation and Reasoning Techniques in Robotics (MIRROR-16)
Defending my PhD thesis with the thesis title A Constraint-Based Approach for Hybrid Reasoning in Robotics
Interview with oru.se (see Hennes robot är både kypare och gruvarbetare)
Panelist in Countering Discrimination panel discussion at IJCAI 2015 talking about the lack of presence of women in AI
Publications
An updated list of publications can be found on my Google Scholar profile.